About
About Vianne's
In June 2016, we closed Vianne's Tea House and the space is now leased to The Ugly Duckling Cafe. We hope you will enjoy the new look of the building and feel the warmth and comfort and enjoy the delicious food offered at The Ugly Duckling Cafe. We are still able to offer our full tea shop – V's Teas, online only. Just click, shop and pay online with free local pick up (after receiving a confirmation) at the Ugly Duckling Cafe or choose to pay postage, tea orders can be mailed to your door!
---
All About Tea – Tea can mean so many things to so many cultures, but the basic facts of tea are the same. Tea comes from the tea Plant, Camellia Sinensis.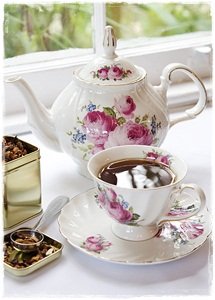 It is a tree that can grow tall or it can be pruned to remain a bush that produces young buds as most widely recognized through the world. The young buds are the source of tea. Over 30 countries around the world grow this bush. The tea varieties all come from this same plant – green, oolong, black and white teas come from the Camillia sinensis bush – the difference is the processing!
Read more about Tea – the types of teas, and their origins.
---
Vianne's Lemon Curd
Zest of 2 lemons
7 T. fresh lemon juice
1/4 pound butter
1 cup granulated sugar
4 eggs
Assemble a double boiler with a medium pot filled to 1 inch from the top. Set aside two medium size stainless steel bowls. Bring the water to a steady simmer. Crack the four eggs into one bowl and set aside. Place remaining ingredients into the other bowl and place on the pot of simmering water. Heat the mixture, while stirring, until quite hot. Set the mixture aside and place the eggs on the double boiler. Whisk the eggs and temper with the hot mixture. Keep the mixture on the boiler and stir with a spoon or spatula until thickened. Strain if desired, keep refrigerated.
Check out more of Vianne's Recipes.
read more